Rhinoplasty Charleston, WV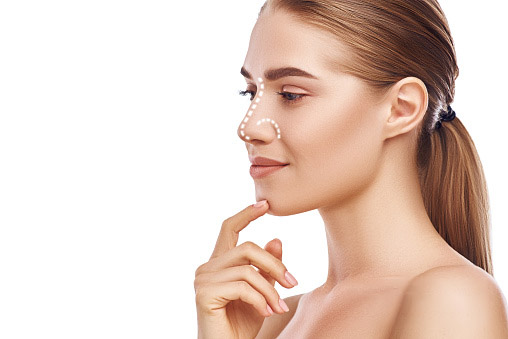 A rhinoplasty is more commonly known as a nose job or a nasal reconstruction. It is one of the most commonly performed cosmetic procedures. Patients who dislike the size or shape of their nose can have it altered with a rhinoplasty at our office. One of our doctors can ensure you get the cosmetic results you want by reshaping, removing, or rearranging nasal bone or cartilage.


Why Rhinoplasty?

Many patients choose to undergo nasal reconstruction because they are unhappy with the appearance of their nose. However, rhinoplasty is also a solution to health and functional problems. The most common reasons for nasal surgery include:

| | |
| --- | --- |
| • | Facial imbalance |
| • | Nasal trauma |
| • | Deviated septum |
| • | Nasal deformities |
| • | Nasal asymmetry |
| • | Uneven nostril size |
| • | Bumps or dips in the nasal profile |
| • | Oversized, overturned, or upturned nasal tip |
| • | Breathing difficulties |
The Procedure

The exact procedural process you undergo will depend on your condition and the reason for your rhinoplasty. Your treatment will be customized to your needs after your consultation appointment, which is your doctor's chance to get to know you and your treatment goals.

In most rhinoplasty cases, patients are looking to reduce the size of the nose and alter it to a more aesthetically pleasing shape. We typically perform the procedure under IV sedation or general anesthesia, which allows you to sleep comfortably without discomfort until the procedure is over. While you sleep, your doctor will make small incisions inside the nose and use special tools to rearrange the bone and cartilage, removing any if necessary. This method helps minimize scarring and ensures optimal cosmetic results.


Rhinoplasty at The Facial Center

If you're unhappy with the size or shape of your nose, or if you suffer from breathing difficulties or other nasal problems, rhinoplasty may be the solution for you. We encourage you to contact our office to set up a consultation appointment. We look forward to hearing from you.

Our office is proud to offer other renewing services, including Facelifts, Brow Lifts, Chin Implants, and more!