Hair Restoration in Charleston, WV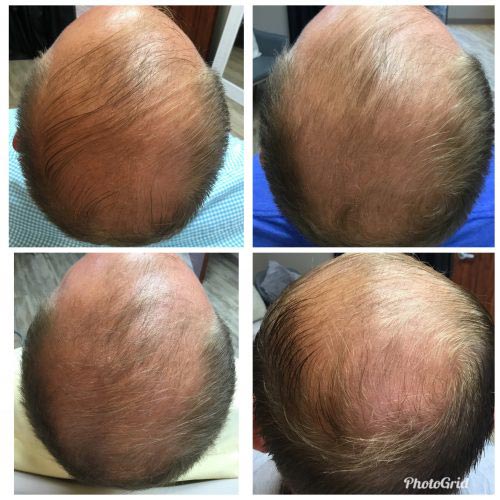 Gentle and Effective Hair Loss Treatment

Do you feel as though part of your identity is missing due to thinning hair or baldness? The Facial Center offers an effective treatment for hair loss that uses nutrients from your own cells to promote hair regrowth for a natural result. Hair restoration works with all hair types for both men and women.

Our specialists are happy to discuss hair restoration options with you. Our blood contains platelet-rich plasma (PRP), which is used for healing. This PRP can be used to stimulate hair growth. This revolutionary treatment for hair loss involves injecting a client's own PRP into the areas of the scalp where hair growth is desired.


How does it work?

This highly advanced procedure can restore your hair and, more importantly, your confidence. Drs. Krajekian and Brock will draw your blood and spin it in a centrifuge to isolate the PRP. Then, the PRP is injected into the scalp using a multi-needle injector.

Clients experience minimal pain or discomfort. The healing agents in your blood's PRP are delivered to the follicles in your scalp, providing them with nutrients and resulting in thicker, fuller hair. Now your hair follicles are able to regrow hair that may have thinned or stopped growing over time with the help of your own body's healing agents.

The hair restoration program includes 3 treatments 4 weeks apart, followed by 1 treatment every 3 months. You cannot wash the treated area for 12 to 18 hours, and you should wear a headband for 8 to 12 hours following treatment. You may feel tenderness in the treated area, but this can be managed with over-the-counter pain medication. Our doctors will discuss treatment in-depth with you, as well as address any questions or concerns and may prescribe a topical hair application for sustaining growth.


Benefits of Hair Restoration

Patients who receive hair restoration treatment at The Facial Center usually see results within 2 weeks of their first treatment. There is no downtime associated with this minimally invasive procedure, and you can have it done in the safety and comfort of our Teays Valley and Charleston offices.

Clients who receive hair restoration treatment at The Facial Center usually see results within 2 weeks after their first treatment. Here are some of the amazing benefits that PRP hair restoration can provide:

| | |
| --- | --- |
| • | The blood is taken from your own body, so there is no risk of contamination. |
| • | There is no downtime after treatment. |
| • | The procedure is minimally invasive. |
| • | This procedure can reverse hair loss and stimulate new growth on your scalp. |
| • | You can see results after one treatment. |
| • | Clients experience little to no pain or discomfort during treatment. |

If you're ready to bring an end to thinning hair or baldness, contact us today to schedule a consultation.