Does a Frenectomy Really Do Any Good?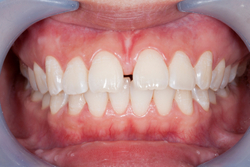 A frenectomy is a type of surgery that removes the frenum tissue. It also removes the attachment to the affected bone. Frenectomy surgeries are very helpful because they correct unwanted tissues that can cause dysfunctional frenum. In simpler terms, a frenectomy surgery slightly reduces a frenum that's too tight or short. To understand why a frenectomy is important, you should know how the procedure works.


Understanding a Frenectomy

A frenectomy is a simple procedure that only takes a few minutes. This surgery is done by numbing the affected area and then making an incision to relax the frenum. This step makes it less tight or removes it. The involvement of sutures in this process depends on the severity and size of the frenum tissue. Thanks to technology, we use a more modern surgery technique that causes less bleeding. It also limits damage to the gum tissues, making the recovery easier. The benefits of a frenectomy are experienced almost immediately after surgery.

The actual procedure is simple and will take only a few minutes. Despite the fact that it is a surgery, you will spend little time in the surgery room and will come out feeling more comfortable. This procedure is also very important among young children. If they haven't developed permanent teeth yet, a frenectomy can be used as a preventative measure. This will go a long way in keeping their teeth safe and improving their oral health.

In addition, a frenectomy could be essential when you have spaced teeth. As much as it will not make them come together, it will help keep them firm. This is why you should consider getting a frenectomy, especially if you have frenum problems. The procedure will help keep your mouth and teeth in good shape and improve your smile significantly. Visit our offices for more information on the importance of a frenectomy.