Are Over the Counter Medications Helpful After Oral Surgery?
Posted on 8/9/2021 by The Facial Center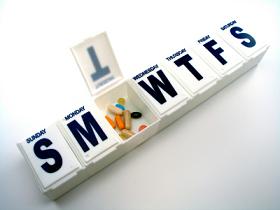 When you have oral surgery, you will experience some discomfort in after-surgery pain. To combat the pain, you can take one of several over the counter medications. However, don't run out and get a brand medication without checking with us first. We may either advise that you take an over the counter medicine or prescribe a medication for pain relief. The following information highlights types of over the counter medicines used to relieve the pain of an extraction.


NASIDs Used to Alleviate Tooth Removal Discomfort

NASID stands for nonsteroidal anti-inflammatory drug. Drugs that fall under this category, sold over the counter, include Advil, Motrin, and Aleve. These drugs work well against dental discomfort, as they target inflammation at the extraction site. While acetaminophen (Tylenol) does not address oral inflammation and is not an NSAID, it does reduce a person's perception of pain. Therefore, when acetaminophen and an NSAID are combined, they effectively treat moderate to severe dental pain.


Fewer Side Effects

Once you receive confirmation from us about the OTC pain medicine you should use, you will experience fewer side effects than stronger prescribed painkillers. Often prescriptions can trigger side effects, such as constipation, fuzzy-headedness, or tiredness. If you use a prescription pain reliever, you risk more serious risks, such as addiction, especially if the drug is an opioid. However, even in these cases, we know what to prescribe to give you the pain relief you require.


Creating a Plan for Pain Relief

Before undergoing an extraction, you can work with us to create a plan for pain relief. Give us your complete medical history, so we can advise you on the best medications to take. For instance, you do not want to take an OTC NSAID if you currently take a blood thinner. You probably should take acetaminophen instead. It's not safe to take too much of any medication for pain relief, even OTC drugs. Therefore, get detailed instructions from us about managing pain before your scheduled procedure.

Do you have specific questions about managing pain? If so, give us a call anytime. Set up an appointment if you would like to schedule an extraction now.