Sleeping After Wisdom Teeth Removal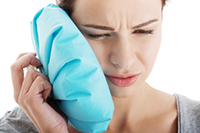 Wisdom teeth removal is a complex surgical procedure that can lead to serious complications without proper aftercare. Changing your diet and maintaining oral hygiene isn't enough, however. You need proper sleep as well, something which many patients find difficult while dealing with post-surgical discomfort.

At The Facial Center, Dr. Jack Krajekian and Dr. John Brock will provide the correct recovery methods after your wisdom tooth removal.


Wisdom Teeth Recovery Time and Aftercare

Even though wisdom teeth removal is a common dental procedure, it's still surgery and requires a recovery period. Typically, recovery can take between 48 hours to one week or more, depending on the procedure and your health condition. Overall, the recovery period length depends on how well you follow post-procedure instructions.


How to Sleep After Wisdom Teeth Removal

The best thing you can do to set yourself up for a good night's sleep is taking your pain medications on time when your anesthesia wears off. Following the procedure, the tooth extraction site may ooze, so try to sleep on your back or side, at least for the first night. Sleeping on your stomach applies more pressure to your jaws, which could increase your pain and swelling.

Moreover, you need to sleep with your head elevated for at least 48 hours. Use a single pillow for sleeping on your side.

Lastly, paying attention to our aftercare instructions can aid in a comfortable shut-eye. General instructions include applying ice and heat before you go to bed and staying hydrated at all times to avoid a dry mouth.

For additional aftercare recommendations and sleeping tips following your wisdom teeth removal, we recommend visiting Dr. Jack Krajekian and Dr. John Brock at The Facial Center. To schedule an appointment with us, call us at 304-205-6123 today.