Oral Manifestations of Common Geriatric Syndromes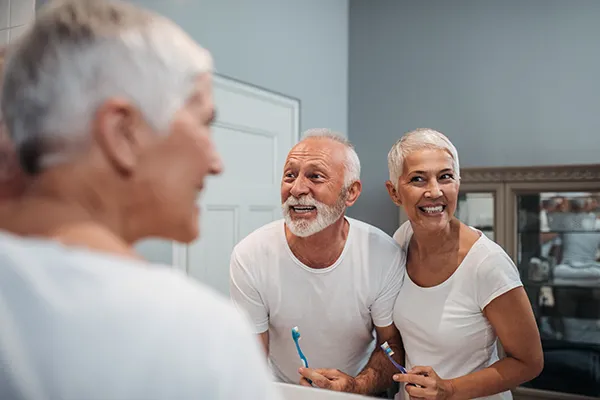 As people age, they become more susceptible to certain health conditions that can negatively impact oral health. Being aware of the oral signs of common geriatric syndromes enables early detection and treatment. This allows dentists to improve patients' quality of life.


Dry Mouth

Many seniors experience reduced saliva flow, known as dry mouth or xerostomia. Certain medications, cancer therapies, and autoimmune disorders often cause this. A dry mouth can lead to a higher likelihood of cavities, gum problems, mouth ulcers, and unpleasant breath. Drinking water regularly, chewing sugarless gum, and using hydrating mouthwashes can be beneficial. Dentists may recommend adjustments to medicines contributing to the problem.


Malnutrition

Poor nutrition can make the oral cavity more vulnerable to issues like gum disease and thrush. Dentures may also fit poorly, causing sore spots. Seniors who have difficulty shopping and cooking may lack key vitamins and minerals. Community programs that provide meals to older adults help them consume nutrient-rich foods. Dentists may advise dietary changes or supplements to support oral wellness.


Dementia

Alzheimer's disease and other forms of dementia can make maintaining good oral care routines challenging. Patients may forget to brush and floss or miss dental appointments. Caregivers play a vital role in providing helpful reminders and assistance. Dentists recommend adapting tools to make hygiene practices easier, like fitting toothbrush handles for an easier grip. Catching degenerative gum disease on time prevents extensive treatment later.

Regular dental checkups help diagnose oral conditions related to aging early on. With prompt care and compliance with dentists' recommendations, seniors can keep their smiles healthy and prevent small problems from becoming serious issues. Awareness of common geriatric syndromes allows dentists to meet the unique needs of their mature patients.

Dental professionals can identify signs of medical syndromes common in the elderly by being vigilant about oral manifestations. This allows early interventions that help older adults enjoy improved overall health and quality of life.