What Is A Geographic Tongue?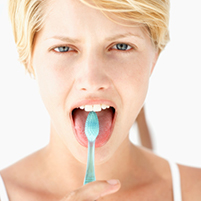 You may not have looked at your tongue in the mirror, but in most cases, your tongue will look pinkish. However, about 2% of the population have what appears to be cuts or patches on their tongue. While this looks menacing and dangerous, geographic tongue is harmless. Here is more information about geographic tongue.


Geographic Tongue

Your strange-looking tongue is actually an inflammation. Normally, your tongue is covered with tiny bumps called papillae. These papillae are actually tiny hairs that help you taste food and beverages. Different areas on your tongue are formulated to taste specific tastes, such as sweet or sour.

If you have a geographic tongue, you are missing papillae in sections of your tongue. These areas of your tongue will be smooth. They look like patches, in contrast with the normal-looking parts of your tongue. Geographic tongue is related to another condition that looks like cuts or gaps along your tongue, called fissured tongue. You can have patches on the top or side of your tongue if you have a geographic tongue.


What Causes It?

No one really knows what causes geographic tongue. There are many theories. People with allergies, asthma, or eczema seem to have a greater chance of getting geographic tongue than people without those conditions. There also appears to be a genetic component to a geographic tongue as well because it can run in families. Other theories for the cause of geographic tongue are stress, diabetes, and hormonal issues.


Should I Be Worried?

People with geographic tongues don't need to worry. Geographic tongue is harmless. However, if you have pain in your tongue or large bumpy areas, you may want to visit a dentist. There are treatments, such as rinses, for your geographic tongue. These rinses won't cure your geographic tongue, but they will resolve your issues with pain.