Will I Need Surgery With TMJ?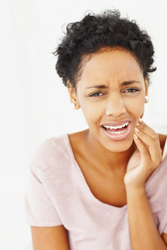 Do you have temporomandibular joint (or TMJ) problems? You have TMD (temporomandibular joint disorder). You may worry that you may have to have surgery. However, many jaw-joint problems can be fixed with nonsurgical techniques.


Night Guards

One of the most common causes of TMJ disorder is bruxism. If you have bruxism, it means you clench or grind your teeth at night. Nearly 30% of all adults occasionally clench or grind their teeth during sleep. People who have severe bruxism can cause all kinds of problems for their teeth and jaw, such as TMD, cracked, broken, or chipped teeth, and broken dental hardware. Night guards can keep you from clenching or grinding your teeth during the night, which can lessen your jaw pain. A dentist can fit you with night guards to help your jaw pain.


Stress Reduction and Exercise

There is a correlation between stress reduction and jaw joint pain. If you practice relaxation techniques and you do jaw exercises, you may lower your jaw pain. Ask the dentist if they can recommend jaw exercises to combat your TMJ issues.


Anti-Inflammatory Medicine

If you have occasional jaw pain, you may be able to relieve your jaw pain with anti-inflammatory medication. These over-the-counter medications can help reduce both your jaw joint pain and the inflammation of your joint that is causing the pain. Along with the anti-inflammatory medication, you may want to try hot or cold compresses to help relieve pain and stiffness. It's a good idea to try both to see which compress works best for you.


What If These Techniques Don't Work?

If you have tried all of these ideas and you are still experiencing jaw pain, it is time to revisit a dentist. Dentists have lots of techniques for jaw pain that can help your TMD.